Ron Lake - Astronomy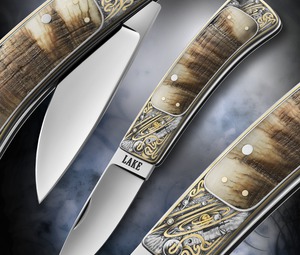 "Per aspera ad astra" - loosely translated from Latin into English means "On rough paths to the stars": That could be the motto for the story of producing this folding knife. Looking at this masterpiece we can experience the cooperation of two professionals in their own field at work. One of the most prestigious knife makers worldwide, the American Ron Lake, prepared the blade, handle and folding mechanism with absolute perfectionism and precision. His trademark - clear, minimalist design - can be found once more in the gentle curves of the metal. The knife handle elements are of riveted polished nickel silver, the handle inserts are made of horn with gold pins.
The Austrian engraver, Armin Bundschuh, perfected the knife with his unique craftsmanship. A challenge, because the knife is petite, only 9cm long, opened 15.5 cm, leaving only few areas for him that were available to engrave he immortalized with motifs of astronomy. Entire planetary systems, stars, orbits, a telescope and a human figure as a silhouette in front of the infinite universe now can be admired on the metal. Further enhancing the beauty we can seefour diamonds and an emerald that are set in the gold used on both sides of the knife. They seem like twinkling stars from distant galaxies.
A dream knife which thus makes the old Latin adage live up to its name ...
« Back to the previous page!