Adihex 2018, "The Peregrine Falcon 2"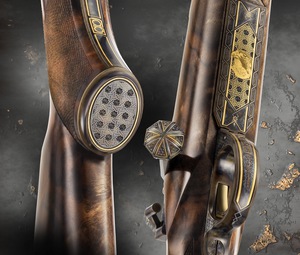 The Peregrine Falcon 2
Following the success of "The Peregrine Falcon" at the Adihex 2017, engraver Armin Bundschuh is continuing the story of the noblest and fastest of the falcons with the second part. "The Peregrine Falcon 2" will be presented to the audience in steel, gold and platinum.
The engraving of the rifle in calibre .308 Winchester combines traditional scrolls with oriental mosaics. The steel of the gun is captivating with its color case hardening, and contrasts beautifully with the precious metal inlays. The engraver has used gold and platinum to precisely process them in mosaic designs, especially on the butt plate, the action and pistol grip cap. The mosaic inlays and engraved stars tell about a highly technical challenge and merge into a harmonic overall view with a discreet silver shimmer. Bundschuh used four metres of platinum wire only on the butt plate and the grip cap. The bolt action rifle is truly crowned with the head of the peregrine falcon on the floor plate.
The matching knife with drop-point blade made of damascus steel completes this elegant pair of weapons: the knife handle made of fossil wood, thousands of years old, contrasts to the steel blade. The engraving is a mixture of mosaic inlays in 24 carat gold, facet-cut stars, and a photorealistic falcon head in Bulino technique.
« Back to the previous page!