Adihex 2017, "The Peregrine Falcon"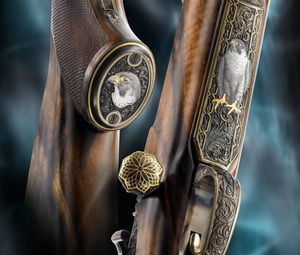 The Peregrine Falcon - the embodiment of the deadly hunter of the skies. Admired throughout the world, it is the noblest and the fastest of all falcons. For centuries people have also valued it as the hunting companion in falconry: "Give a wild bird his freedom in order to bind him to you." In the Middle East, in particular, falconry enjoys high status in hunting. The peregrine falcon is regardedas the noblest of all feathered creatures. Engraver Armin Bundschuh is an expert in combining the fascination of this adorable animal with a Mauser system, .270 WIN calibre premium hunting rifle: the magazine cap displays an engraving of the perched peregrine falcon in all its splendour, while the head of this dedicated hunter appears on the pistol grip cap. Both engravings are inlaid in platinum and gold, while 1 mm thick platinum sheeting was used for the platinum inlay. The rest of the engraving of the rifle displays a fascinating mixture of mosaic inlays in gold and deeply chased, stylish ornaments.
The rifle is accompanied with a matching knife: an Arabian foldingknife with golden appliqués and black lip pearl inlays in the handle. The mother-of-pearl harmonises wonderfully with the colour case hardening of the weapon. The knife is produced in the USA by Rick Genovese. With this elegant folding knife, the future owner will always proudly carry a part of this project with him.
The rifle and knife are enclosed in an elaborately produced matching case: externally upholstered in blue leather, internally lined with beige fabric. Just like the blue of the Arabian Sea and the beige of the Desert's sand - over which the falcon is gliding as he is hunting his prey.
« Back to the previous page!