Adihex 2016, "Tiger and Diamonds"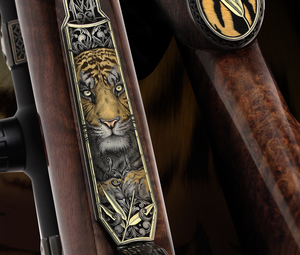 Asian jungle, tropical humidity, the air is filled with the chirping of thousands of insects, birdsong and the screeching of monkeys. But then, from one second to the other, silence covers the rainforest. There he is! The most dangerous of all hunters, the largest cat in the world is approaching. His gaze penetrates the dusk and night, his silence leaves his prey no chance - the tiger is a legendary cat. Engraver, Armin Bundschuh, has used the stories about this legendary animal to immortalise it forever on an elegant weapon, thus creating a work of art without equal. The bolt action rifle, Mauser 98 caliber.300 Win Mag built by Paul Paternoss in Austria. Bundschuh highlighted the weapon's power by decorating it with a tiger engraved in 24 karat yellow gold, 22 karat green gold for the eyes with chiselled leaves and bamboo border. The Tiger's muzzle is made from 18 karat rose gold. The back markings of a tiger in 24 karat gold are centrally located on the butt plate. These markings continue on the top of the mounting rings. The side markings of the tiger can be seen on the left side of the discharge opening. A special feature on the engraving is the geometric basket weave, extravagant and done with infinite meticulousness. These linear forms become somewhat less severe on the other surfaces where a more upbeat decoration has been selected that is interwoven with the bamboo leaves in green gold. A deeply engraved rosette with bamboo leaves is located on the front of the cocking lever. Eight, shiny, elegant diamonds are sparkling on the side of the cocking lever held by 18 karat gold pins. An engraving that shows admiration to the king of hunters and immortalises his majestic appearance in gold and diamonds forever. Like the nocturnal glitter of the stars in the eye of the lurking cat. The matching bush knife: A fully integral knife made by Stefan Gobec in RWL34 steel, hardened to 61 HRC, with handles in precious mammoth ivory. The engraving is a fascinating decoration with 24 karat inlays. It starts on the back of the knife and flows symmetrically over all surfaces of the blade.
« Back to the previous page!