Adihex 2016, "The Buck of your Life"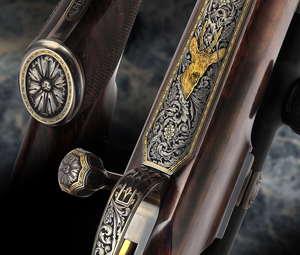 There is one roebuck the hunter will never forget. In most cases, the kill is connected to a very special experience: a difficult, but exciting stalk. Or it is the very first roebuck in the hunter's life. Alternatively it had a great set of antlers. Thus this bolt action rifle is dedicated to the avid deer hunter. Mauser System 98, caliber .270 Win, masterfully built as a single piece by gunmaker Paul Paternoss in Austria. Engraver, Armin Bundschuh, chose the buck of your life as the motif for his work: the buck is emblazoned in 24 karat gold on the cover of the magazine box, surrounded by a decoration depicting its oak forest environment. On the top of that an elegant gold border contributes to it's perfect look. Deeply engraved oak leaf rosettes appear on the grip cap, body cap, mounting rings and bolt handle, thus supporting the overall effect of the engraving. At first glance, the matching knife may seem to be a classic hunting knife: Made by Luca Distler of Messerwerk - Germany. The blade is made of hand-forged Damascus steel with 360 layers, hardness 61 HRC. The handle is made of highly polished buffalo horn. The guards are made of 18 karat solid gold. A truly elegant gun and knife combination - the best conditions for the dream of the buck of your life.
« Back to the previous page!