Adihex 2014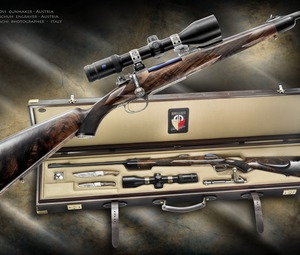 To be seen for the first time at the Adihex fair in Abu Dhabi: A bolt action rifle (Type Mauser 98, Cal. 270 Win.) by gunmaker Paul Paternoss with engravings by Armin Bundschuh. The two Austrians show here absolute technical perfection of international standing. The shape of the weapon and the engraving was dedicated to the topic "octagon". Implemented masterfully the animal pieces and the ornamentation, -the sharp and angular parts of the weapon appear again elegant and lighter. Fascinatingly beautiful burl wood has been taken by the gunsmith for the shaft, made for a perfect finish of the highest quality materials. The result: Not only beauty, but also excellent handling and shooting performance.
In order to create a complete set, the renowned Austrian knife maker Stefan Gobec manufactured a wonderful pair of knives matching this weapon: a hunting knife and a folding knife with blades from damascus steel, handles made of mammoth ivory and many titanium parts.
« Back to the previous page!